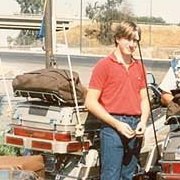 So how long have we been doing this?  Well, that pic is of the founder in front of his 1984 Honda Goldwing that he rode to High School.  We started our romance with motorcycles in 1982 at "Custom Touring Design", a specialty touring shop in Laguna Hills, California.   The shop quickly gained a reputation for being able to do just about anything.
The Electrical Connection was founded in 1994 with "The Battery Monitor" which was awarded "Innovation of the Month" by Motorcycle Consumer News.  Most of our products are the result of customer suggestions, feedback and input.
Most of our products are hand-made in our Knoxville, Tennessee facility.  It may take us a little longer to construct the parts for your order, but we know that when you receive them, they won't disappoint you.  Every part we offer has been road tested prior to being offered for sale.  We don't ask you to drill, cut or alter for an installation if we would not do it to our own.
Lewis Q. Preston
Proprietor
.
NOTE:  We are an actual hands on company. Our Knoxville location is a distribution warehouse, R&D Facility and actual manufacturing.
Will calls?  They are welcomed.
Pick ups?  Sure.
Service and installations are done at trade shows and here.  C'mon on over, neighbor.